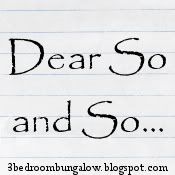 ahhhh.... it's 'Dear So and So...' day over at Three Bedroom Bungalow again! I had so much fun last time! Let's join in again - shall we?
Dear Jeans:
What's with the muffin top? Seriously. I thought we were in love... I guess you had other plans... Maybe a 'heads up' next time?
Confusedly Yours,
Bitter in Bootcut
☆☆☆☆☆☆☆☆☆☆☆☆
Dear LUSH,
I love you. Please marry me. I'll cook, and you can keep me looking and smelling my (softest) best. I know we're different, but we can make it work.
Yours in Bath Time Joy,
Lily Ruth's Mama
❁❁❁❁❁❁❁❁❁❁❁❁
Dear Baby Daughter,
Your new teeth are cracking me up. I also find the majority of your antics to be hilarious. Keep up the good work.
Adoringly yours,
Mama
♡♡♡♡♡♡♡♡♡♡♡♡
Dear Central Market Organic Truffles,
Knock it off. You are waaaaaaay too delicious. This is ridiculously unfair to my jeans.
harumpfh,
Rachel