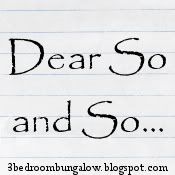 YAY! I LOVE 'Dear So & So' day!!!!
-------------------------------
Dear Kat,
Happy Birthday! Thanks for writing a fun, audience-participation-welcome blog!
Your Biggest Fan on This Blog,
me
☺☺☺☺☺☺☺☺☺☺☺☺☺☺
Dear Lily Ruth,
I am so sorry that you cried through the entire 4 hours that I left you at Parent's Day Out today. Unfortunately (for you), I will be dropping you off again next week as well. I promise that this is a very good thing for both of us. Sobbing in your sleep while you nap is not going to change my mind.
I love you dearly,
Mama
♥♥♥♥♥♥♥♥♥♥♥♥♥♥♥
Dear Dogger-Doo,
I would like to apologize to your digestive tract for changing wet food on you without warning. That being said, I DO feel that your tummy owes ME an apology for the NOXIOUS cloud of dog-gas that has wafted through our home like clockwork every hour for the past few days.
Truce?
Food Lady
☁☁☁☁☁☁☁☁☁☁☁☁☁☁
Dear Frank,
Please get well soon. I really hate it when you guys get sick - it makes me feel like a bad Mommy... even when I didn't do anything wrong. Just tell the vet that you are ready to come home.
I miss you already!
meow
☹☹☹☹☹☹☹☹☹☹☹☹☹☹☹
Dear Girl Scout Cookies,
You know what you did. Enough said.
Stay out of my freezer,
Rachel
HAPPY FRIDAY, YA'LL!!!