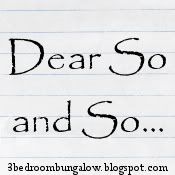 I haven't participated in Dear So & So Friday lately, and I miss it! So here we go... oh, if you want to play too, pop over to Kat's at
3 Bedroom Bungalow
, grab the button, write yourself some letters, and then link up!
◊◊◊◊◊◊◊◊◊◊◊◊◊◊
Dear Rain,
WOW! Um, you filled the pool to overflowing in just a few short hours of deluge. I'm so glad that you're here, but you brought too many friends. Please ask those jerks Surface Street Flooding and Super Slick Streets to please leave. They were not invited. You may stay as long as you behave yourself.
Yours,
Miss Wet Head
☁☂☁☂☁☂☁☂☁☂☁☂☁☂
Dear Keely Monkey Dog,
I'm so sorry, Honey. I know that you hate the rain. Would you like a treat?
I love you,
Mama Dog
❖❖❖❖❖❖❖❖❖❖❖❖❖
Dear Tiny Cat,
I really really really really really need to find a home for you. You have kept me awake for most of every night that you have been here by either chewing/scratching me or attempting to chew/claw on my baby daughter and waking her up in the process. I'm not sorry that I took you in, but I am sorry that you are still here. YOU ARE DRIVING ME CRAZY. It's a good thing that you're so cute. Fingers crossed that the lady I've been e-mailing comes to get you tomorrow!
I'm watching you,
Lady Who is Holding You by the Back of the Neck
☺☺☺☺☺☺☺☺☺☺☺☺☺
Dear Baby Daughter,
Oh my GOODNESS! You are getting so BIG! Great work on the whole standing thing. The fact that you now mimic the animals and sing 'ee-EYE-oh' when I sing 'Old MacDonald' seriously cracks me up. You are amazing and I love you so much that it hurts.
Your Biggest Fan,
Lily Ruth's Mama
♥♥♥♥♥♥♥♥♥♥♥♥♥
Dear Self,
Get some damn sleep! This is ridiculous. Deep cleansing breaths. Let it all GO. Rest. Be good to yourself.
Love you!
me