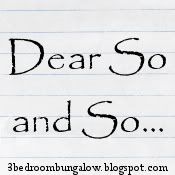 I DO love Fridays! If you want to join in the fun, head over to Kat's place (
3 Bedroom Bungalow to Let in Crazytown
) and link up :-)
Dear Doggie,
I'm sorry that you hate the rain, but I love it. You are welcome to crawl up here to snuggle/hide any time that you need, but I will continue to throw the house wide open every time that it storms. Sorry.
*Hugs*
Mama Dog
☂☂☂☂☂☂☂☂☂☂
Dear Rain,
Hi! Welcome back! I love the way the light looks over the pool right before you get here. The baby thinks it's hilarious when you plop soft, warm drops on her arms and head.
Your presence is welcome, and your results are appreciated, but let's not overstay our welcome. This isn't Seattle. Just saying.
Luv Ya,
Little Miss Damp Toes
☁☁☁☁☁☁☁☁☁☁
Dear Baby Daughter,
What is up? I thought you loved me! The biting stops or the nursing stops. Not negotiable.
In other news, you continue to be the apple of my eye. Daddy and I had so much fun showing you off last weekend! You were beyond adorable.
XOXOXO,
Mama
♥♥♥♥♥♥♥♥♥♥♥
Dear Eileen,
THANK YOU FOR THE AWARD! I promise to officially accept it and pass it on soon. Maybe if Lily Ruth takes a nap later...
You are cool (Ya'll should check out
Giving Her All She's Got
)!
the Grateful Geek